The Tools window

Set Editor panel

This first panel let you select or edit a set of files to associate with keys.
The top of the panel is composed with 4 buttons and a combo box.

From left to right:
Clear button: to clear the current selected set,
Open button to open an existing set not yet in the combo box,
the combo box for a quick access to already opened set,
Save as button to save a modified set to another file name,
Save button to save the current set without modifying the name of the set.

The grid below has 6 columns:
Key: With two labels: the key keyboard and the music notation,
Label: the label to display on the main window for the current key,
File, the path and file name associated to the key. The path is empty if the file is on the directory of JingleWin.exe
Min, Max, Range: the values to apply for the key.
---
Options panel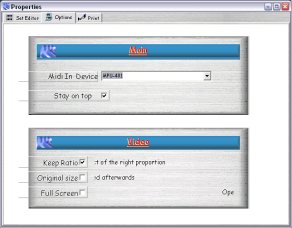 This panel let you choose some options for the main window and the video window.

Midi In Device: Scan the devices available on the system and let you choose the one to use,

Stay on top: The main window stay always visible.

Keep ratio: Video can be resized with respect to the original ratio size.

Original size: Video is opened with the original video size. It can be resized afterwards.

Full Screen: the video is displayed in full screen mode on the current monitor.

---

Print panel

This preview print panel is made to print the current set of keys. The column size depends on the size of the editor panel.